Program Manager (Creative Media) - Remote (6 months FTC)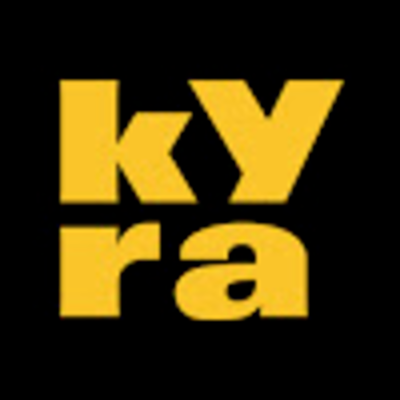 Kyra Entertainment
Marketing & Communications, Operations
London, UK
Posted on Saturday, July 29, 2023
Kyra is a global creator economy company that bridges the gap between brands and Creators.

Last year we raised $10 million in Series A funding to build & launch a brand new platform that will revolutionize the creator economy as we know it by empowering creators. The Kyra Platform is a place for creators to make money, build their industry network, and get paid for their hard work (& performance). For Brands, they will have access to a first-of-its-kind marketplace to launch creator campaigns in line with trends, streamlining processes and maximizing ROI...with incredible creators from around the world. The Kyra Platform has been built to bridge the gap between brands and TikTok creators.


We work with a diverse slate of creators, and global blue-chip brands such as Nike, Converse, Levi's, Calvin Klein and more.
We're looking for a Program Manager to join our team in London to oversee resource management and delivery of projects sold to clients. As a process pioneer with a passion for tech products and the creators' economy, the Program Manager has an eye for detail and optimization that spans across the pre-sale of creative campaigns and execution. This person is driven to find the most effective ways to deliver projects and scale operations, aligning with the stakeholders and ensuring the availability of all resources needed. The program manager has experience working in creative environments and tech startups.
A highly-organized creative thinker, the ideal candidate is highly motivated and energetic, capable of juggling multiple creative projects simultaneously. An in-depth knowledge of social media and digital platforms (Instagram, TikTok, YouTube, Podcasting) is a must. The proven ability to work cross-functionally across multiple departments, including Production, Client Services, Talent, Sales, and Marketing in a fast-paced environment is critical.

🤔 Should I apply for this role?
If the sound of this role excites you, we want you to apply - even if you feel that you don't meet 100% of the requirements. We're keen to hear how your skills, interests, achievement and experience aligns to what we're looking for. We are an equal opportunities employer. We are committed to making Kyra a beacon of diversity and inclusivity, working together and alongside our industry-peers to create a better, fairer and more representative entertainment industry, both on and off screen. We encourage applications from candidates of all abilities and backgrounds.

Reporting to: Chief Platform & Production Officer
Salary: £50,000-£60,000 per annum (dependent on experience, and pro-rated for the duration of the fixed-term contract)
Contract Duration: 6 months FTC
Location: Remote with the option to work in coworking space with the rest of the London team every other week.
🚀 What you'll be doing
ACCOUNTABILITIES:

💼 Campaign Brief Setup:
Collaborate with Sales, Strategists, and Casting teams to input and organize comprehensive briefs for campaigns on our platform. Ensure that all necessary information provided by these teams, including campaign goals, dates, target audience, messaging, creator suggestions, creative assets, and performance metrics, is accurately captured in the briefs.




💥 Client Onboarding and Campaign Kickoff:
Lead the onboarding process for new clients, working closely with the Sales and Creators Partnerships teams to kick off campaigns internally and externally.

Ensure seamless communication and coordination to effectively launch campaigns and provide clients with a positive onboarding experience.

Relationship Building and Sales Support:

Serve as an extension of the Sales team once campaigns move into execution, building strong relationships with clients across all brands.

Actively engage with clients, addressing any concerns, providing strategic guidance, and identifying upsell opportunities to support the Sales team.




🧩 Project Management:
Develop and manage project timelines, ensuring all tasks and milestones are clearly defined, deadlines are met, and deliverables are successfully executed.




Manage a team of producers, providing guidance, support, and feedback on project execution.

Oversee the projects pipeline, ensuring efficient resource allocation and optimizing project workflows.




👨‍💻 Invoicing and Reporting:
Manage the distribution of client invoices and reports, collaborating with the finance team during the billing and collection process.

Ensure accurate and timely invoicing, and provide clients with comprehensive reports on campaign performance.




🥇 Client Success and Retention:
Take the lead on client success, ensuring client satisfaction, and proactively addressing any issues or challenges that arise during campaigns.

Collaborate closely with the Sales team to secure a high retention rate by delivering exceptional service and identifying opportunities for continued partnership.




📈 Performance Analysis and Upsells/Renewals:
Lead the analysis of campaign performance, leveraging data insights to tell captivating success stories and identify areas for improvement.

Utilize performance data to inform upsell and renewal strategies, working closely with the Sales team to drive revenue growth.




🧠 Experience / Skills that will support your success in the role:

Bachelor's degree (or equivalent experience) in marketing, communications, or a related field

Proven experience in client success management, campaign management, and team leadership within the media or technology industry.

Strong understanding of pricing strategies, campaign brief setup, and project management principles.

Excellent communication and interpersonal skills, with the ability to build strong relationships with clients and internal stakeholders.

Proficient in managing project timelines, resource allocation, and pipeline management.

Experience with invoicing, reporting, and financial processes.

Analytical mindset with the ability to leverage data insights to drive campaign success and identify upsell opportunities.

Strong organizational skills and attention to detail.

Proactive and customer-oriented approach to ensure client satisfaction and retention.

Familiarity with media platforms and digital advertising is a plus.


🧩 Will this role be a good fit for me?

We're all about transparency at Kyra, we reckon you'll excel in the role if:

you are energised by the fast-paced nature of a scaling business and the opportunities that this brings

you are stimulated by creative problem solving and applying your expertise & knowledge of Gen-Z creators to develop award-worthy ideas

you are used to thinking on your feet & taking initiative - when you're faced with challenges you don't let perfectionism get in the way & you proactively come up with workable solutions
🙌 What we'll offer you:


Remote working: we operate a remote working model - with the option to work from our co working spaces 🏠

Flexible working: we trust our team to own their time to balance work and life! ⏰

25 days vacation plus 8 public holidays 🏖️

Paid Wellness Leave: if you're unwell we offer up to 4 weeks sick leave at full pay 😌

Remote/Online onboarding: you will have regular catch ups with your manager and team during your onboarding (and after) to make sure that you're fully supported in your role 💻 👋

Your Development: we will support your professional growth via an annual personal training and development budget 🌱

Discretionary Bonus Scheme 💸

Employee Assistance Program to support your personal needs in and out of work 💚

Contributory pension scheme 📈

A chance to be part of a fun, creative, supportive and diverse team 💫
🕵️ Hiring Process (Remote)


'Story Swap' with a member of our People team - so we can learn more about your career journey & you can learn more about us (30 mins.)

Capabilities Interview with our Chief Platform & Production Officer and a member of the Product team (1 hour)

Task - to be completed virtually and presented to the Chief Platform & Production Officer (45 mins)



💟 Support


If you have a condition or require an adjustment to our interview process - please let us know so we can make adjustments to support you.
Kyra is an equal opportunities employer. We are committed to making Kyra a beacon of diversity and inclusivity, working together and alongside our industry-peers to create a better, fairer and more representative entertainment industry, both on and off screen. We encourage applications from candidates of all abilities and backgrounds. Kyra does not discriminate on the basis of race, national origin, gender, gender identity, sexual orientation, protected veteran status, disability, age, or other legally protected status.