Finance Manager (6 Months FTC)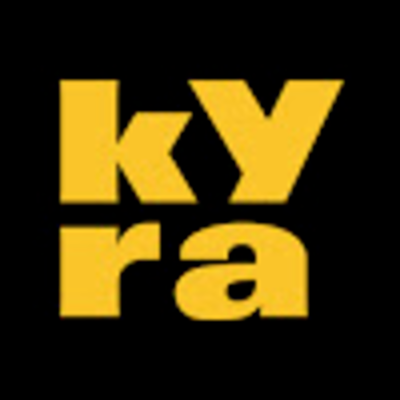 Kyra Entertainment
Accounting & Finance
London, UK
Posted on Sunday, September 10, 2023
Kyra's a global creator economy company that bridges the gap between brands and TikTok creators. We are a team of creators at our core, producing best-in-class social content geared for Gen-Z while accelerating a world for creators to do the same with ease.
Last year we raised $10 million in Series A funding to build & launch a brand new platform that will revolutionize the creator economy as we know it by empowering creators. The Kyra platform is a place where creators find new deals with the best brands in the world and get paid for pursuing their passions.
This is a unique opportunity to join an exciting start-up where you can make a transformative stamp and have real ownership of the finance agenda whilst reporting directly to the CFO. Initially you will be tasked with supporting and transforming BAU but as the company grows and scales more opportunities are likely to become available over and above the initial remit. If you are a candidate with a bias for action looking to be able to make tangible successes from the off this is the role for you.
Reporting to: this role reports into the CFO who is based in London
Location: this is a remote-first role
For candidates based in the United Kingdom, there will be a requirement to visit London offices one day per week.
🚀 What you'll be doing:
Your main role will be to enhance the efficiency and reliability of processes as you complete them. This encompasses a wide range of tasks, including but not limited to:
Ownership of the day to day financials/monthly cycle including completing month-end activities

Leading on all technical and regulatory requirements across the UK and US including but not limited to tax, audit and accounting queries

Supporting all activities related to cash flow management

Overseeing and enhancing campaign budgeting

Driving cost reductions

Providing enhanced financials visibility, reporting and actionability

Partnering with the existing finance team and the business, on cost control in particular

Increasing robustness of the control environment

Leading on budgeting and forecasting processes

Ad-hoc, there may be times when you will be required to complete tasks outside of the above and support the wider ops organization

Coverage for the existing finance team

Supporting in the development of the finance associa

te
The skills that you'll need to thrive in this role:
✨ Self-starter and problem solver: This role requires someone who takes charge, proactively tackles challenges, and finds creative solutions
🌟 Dedication to continuous improvement: You'll need to have a knack for identifying and seizing opportunities and pursuing them with proactivity and follow-through
⏰ Master the art of meeting deadlines without compromising on detail: Show us your superpower of working under pressure while maintaining an impeccable attention to detail ⚡️
📊 High-level proficiency with Excel/Google Sheets: If you're the spreadsheet guru who can work magic with Excel or Google Sheets, we want you on our team!
🤝 High level of ownership, communication, and prioritization: You'll be expected to be the driving force who effectively communicates, takes ownership of tasks, and keeps everything on track.
🔥 High passion for delivering quality work: Bring your enthusiasm and passion for delivering top-notch results to the table
📚 Technically strong with knowledge of UK and US regulatory requirements: Showcase your expertise in navigating the regulatory landscapes of the UK and US
🎓 Recognized accounting qualifications ACA/ACCA/CIMA or equivalent: Your accounting qualifications and experiences are a badge of honor that we highly value
🤝 Team player: Collaboration is the key to our success. You'll need to have exceptional communication skills and a knack for building meaningful relationships with colleagues. Your ability to connect and collaborate sets you apart.
💻 Systems adaptability with a good knowledge of Xero - we like to see someone who can demonstrate their tech-savviness and adaptability in mastering different systems
🔍 Curiosity is your secret weapon: We value individuals who are eager to learn, grow, and expand their horizons. Let your insatiable appetite for knowledge drive your success. 🌟
📊 How we'll measure your success:
We'll evaluate your performance based on your ability to:
Demonstrate consistent enhancement in the timeliness and reliability of routine business-as-usual (BAU) activities.

Create additional capacity within the team to handle workloads effectively.

Ensure that processes and reporting are actionable, providing clear steps for action and decision-making.
🙌 What we'll offer you:
Remote working: we operate a remote working model - with the option to work from our coworking spaces 🏠
Flexible working: we trust our team to own their time to balance work and life! ⏰
25 days vacation plus public holidays 🏖️
Paid Wellness Leave: if you're unwell we offer up to 4 weeks sick leave at full pay 😌
Remote/Online onboarding: you will have regular catch ups with your manager and team during your onboarding (and after) to make sure that you're fully supported in your role 💻 👋
Your Development: we will support your professional growth via an annual personal training and development budget 🌱
Employee Assistance Program to support your personal needs in and out of work 💚
A chance to be part of a fun, creative, supportive and diverse team 💫
🕵️ Hiring Process (Remote)
'Story Swap' with our People Advisor - so we can learn more about your career journey & you can learn more about us (30 mins.)

Task - to be completed virtually

Interview with CFO
💟 Support
If you have a condition or require an adjustment to our interview process - please let us know so we can make adjustments to support you.